There is nothing more elegant than a beautiful suit. Do you agree with this statement? According to a recent survey that has been conducted on a dating website, the majority of people find suits to be extremely attractive on men, compared to all the other outfits, which resulted in highest scores and rates for men in suits. What's the reason for this? The answer is simple: ever since the first suit has been invented, its design is actually made to emphasize men's physique in a good way. It makes men taller, thinner and is linked to looking more professional and successful. Not to mention that people who wear suits look more classy, sophisticated, elegant and stylish. Isn't this enough reasons?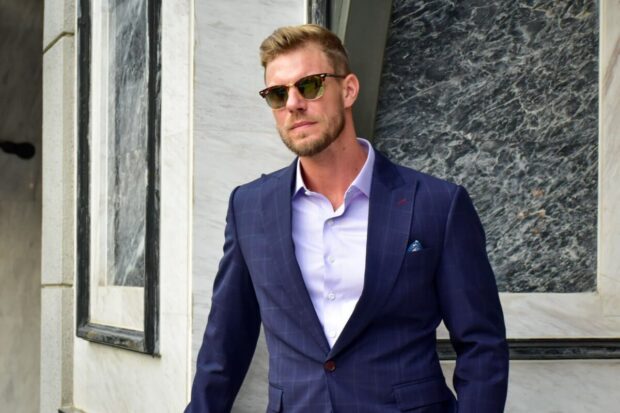 Getting a suit in the past was like a ritual that would represent the process of growing up for young boys who are becoming men. At the same time, this was a process that consisted of taking measurements and waiting to get that perfect suit made just for you. People would have only one suit in the past and they would wear it only on special occasions. That was the case with a majority of people, while upper class individuals had several suits in their closet. Over time, suits have stopped being an exclusive thing to have, and have become only one of the clothing pieces a person possesses in their wardrobe.
What's also changed over the years, is the fact that suits have stopped being high-end clothing and they entered the world of fast fashion. That being said, nowadays it's possible to purchase a whole suit for a very low price. For a price that's very affordable. You can have a suit for a special occasion or for work (if that's the dress code at your work). However, many people find this process frustrating. What process are we talking about? Here, we are talking about the process of choosing, trying on, and finally, purchasing the right suit for their body type preferences, occasions and budget.
When the market is oversaturated with a product or a service it can easily become overwhelming to find what you were initially looking for. When there is a plethora of choices it's easy to get lost somewhere along the way. Although suits have become more accessible than ever, there is one thing that happened in the mass production system: suits have lost their quality. What do we mean by this?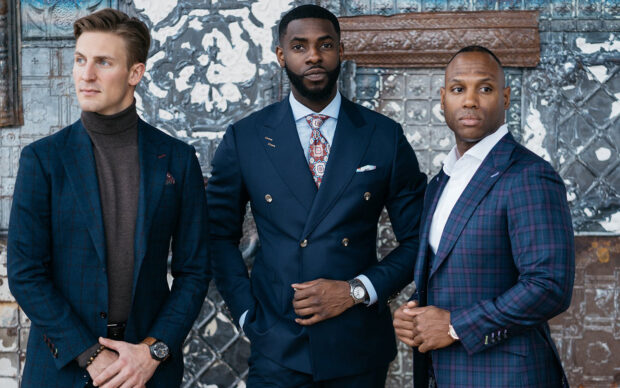 When we say quality, we have several factors in mind. First of all: the materials that are being used. Fast fashion mens affordable fashion but it also means that big brands will not invest big money into suit fabrics, or they will mix different materials, so you'll be able to see a lot of polyurethane or polyester, and other unnatural, synthetic materials.
On the other hand, the best suits are usually made of natural wool, cotton, linen, cashmere or even silk. In many cases these natural materials are combined and make a perfect fabric for your suit. The difference that these materials make can be seen in the way your suit acts when you wear it, which includes how breathable the fabric is, how soft it is, and if it's flattering your body or not. This is why people are interested in investing a bit more money to get a high quality suit that can last for years.
Durability is also a very important factor that needs to be mentioned. A good suit can last for decades if properly maintained. This means that it is a long-term investment in your style, if you make the right choice at the very beginning.
But is it all about the choice? Is buying one of the suits that are available out there the best thing you could do?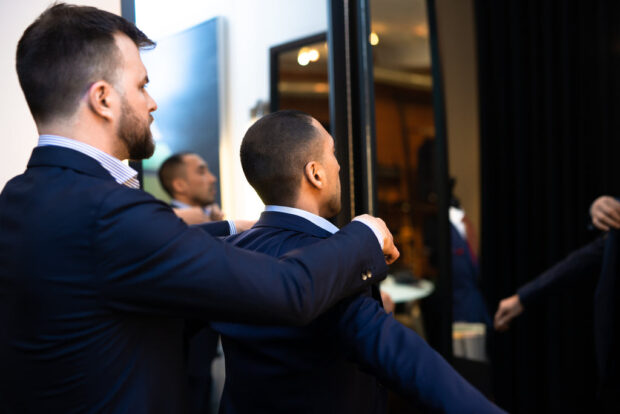 Most certainly not. You might think that tailors are out of style, but you'd be surprised. Tailored suits are still a thing. Not only thing but the best choice when it comes to having a suit that's a perfect fit for you. No matter how much time and effort you put into trying to find a good suit for your body type and body physique, chances are that you'll end up looking for a tailor to adjust it, so that it perfectly fits. Or simply go with what you have.
On the contrary, there are people who get their suits tailored and who absolutely think it's worth it. One of the most Googled questions is the question about whether tailored suits are worth having, even if the initial investment is a bit higher. The answer is yes.
There are plenty of reasons for getting a tailored suit instead of a regular one. First of all, if you opt for this you will be able to pick everything from scratch: materials, fit, colors, even the smallest details such as collar or buttons. By doing this, you'll be able to be unique and showcase your style and liking. And it's a good moment to mention that these small details actually reveal the most about both the owner of the suit, and the quality of the suit itself.
Next, your tailor will help make the suit fit perfectly, so he will make you move around and sit. All of this is for the purposes of making sure you're comfortable in it. When buying a one-fit-for-all suit, it might perfectly fit while you're standing and then become too tight when you try to sit. Your buttons might be popping open, and many other inconvenient things could happen. That's why your tailor is there to prevent that from happening.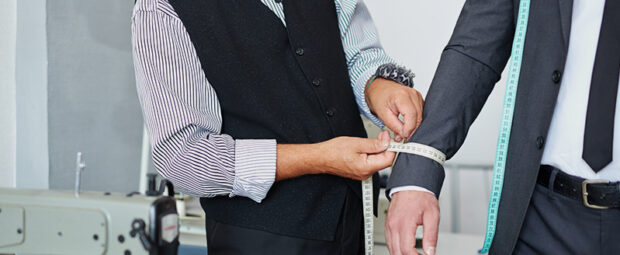 But there's also another important reason why people love suit tailoring, instead of finding and searching for red suits. It's simply more convenient and requires less time. Your tailor will get your measurements in an hour or so, but you will spend hours and hours trying to find a suit in retail shops, and you can easily end up without finding what you were looking for.
Not to mention the boost of confidence you'd be getting when you put that perfect, tailored suit on. Some people claim that this is a life changing experience. And we couldn't agree more!