Nowadays, natural skincare is a very relevant concept in the world. This is because of the ever-changing weather conditions, pollutants in the air, and artificial components found in skincare products. Skincare products do more than just nourish your skin.
They also provide natural protection against the harmful waves of the sun and protect your skin from the pollutants in the atmosphere. Cannabidiol body cream- a strong herbal treatment for skin made at home could be the best answer to these harmful elements.
However, if you don't have time for making it yourself at home, you can always find premium quality full spectrum CBD body butter online. In the skincare industry today, Cannabiodol body cream is the real craze. But even after all this craze, there's no need to worry about spending a great deal on it. Cannabidiol(CBD) is a therapeutic amalgamation found in the cannabis plant.
Grown as well as sold mainly as an oil additive, this holistic medicine is being said to be extremely beneficial against skin problems like sensitive skin, blackheads, whiteheads, and also inflammation.
Making your own CBD body butter cream at home is astonishingly simple. With just a few steps and advanced prep, you can make your own body butter just within the span of an hour. All you need to do is follow the steps given below.
How To Create Your Own Cbd Body Butter?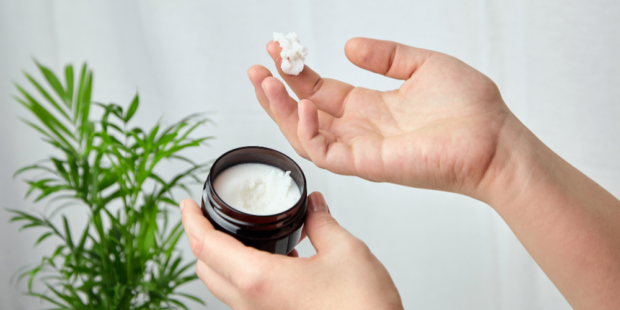 This CBD skin lotion has a rich, frothy texture that is perfect for rough, irritated skin. This ultra-hydrating moisturiser contains nutrient-heavy shea butter, which soothes and softens irritated skin.
It also includes aloe vera gel, which has always been shown to treat skin problems and inflammation, as well as vegetable glycerine, which attracts moisture to the skin and keeps it hydrated.
Handcrafted skincare is extremely adaptable. Once you've created a basic arrangement, you may quickly customise it to meet your specific requirements.
Ingredients Required
Half a cup of unrefined shea or cocoa butter based on your preference.
Half a cup of coconut oil.
One-third filled-up cup of aloe vera gel.
Two tablespoons of vegetable glycerine.
Two teaspoons of concentrated cannabidiol oil.
Any oil with a fragrance.
Recipe For Cbd Body Butter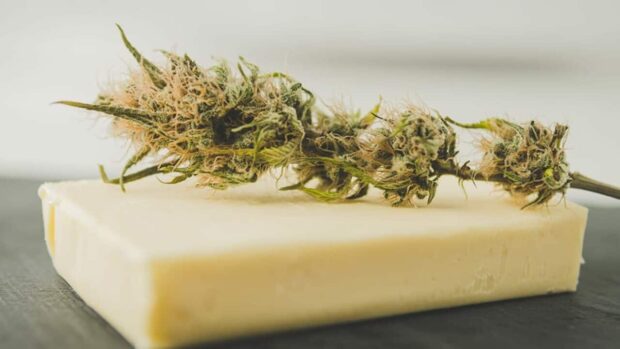 First, make sure to measure all the ingredients for the recipe properly. You will need a double boiler for this step. Fill the base of the boiler with water till the water level reaches one or two inches inside.
You can replace a double boiler with a heat-proof utensil too. Just place it in a conventional boiling pot. Set the flame to low or medium and start boiling the water. Slowly start adding the cocoa butter and coconut oil to the heat-proof utensil or upper boiler.
Keep stirring the added ingredients until they blend well with each other. Make sure you keep turning the mixture around to melt the butter properly and avoid leaving any lumps in it. Once it melts properly take it out and pour it into a heat-proof bowl or blender utensil.
Make sure to separate the oils properly before transferring them to the blender. Leave the mixture to cool down for at least 60 minutes. Use a palette knife to clear the oils sticking to the sides of the glass.
The next step is to add aloe vera gel, vegetable glycerine, a preferable quantity of essential oil, and CBD oil as per quantity convenience to the blend you have created. Use a blender to nicely mix all these components into a compound with whipped thickness.
If not refrigerated, this mixture will keep for two weeks at least. Try adding vitamin E to preserve and maintain the quality for a little more time. As a natural preservative, it is beneficial.
Excess cream can be stored in an airtight container for up to one month. Before using, simply allow the mixture to sit at room temperature.
Some Solutions To The Problems You Might Encounter
It can be difficult to make your own skincare. What is the most common issue? You're not getting the texture you want. When producing your own CBD cream, here's how you can fix the most typical issues:
If you find the cream to have a more granular texture, you can simply solve this unwanted texture by whipping the mixture for a longer while. You can also add a tablespoon of vegetable glycerine for a smooth texture.
If the cream is thicker than desired, simply keep adding one tablespoon of aloe vera gel and keep whipping until you get the required texture.
If the body butter is too thin and you want a concentrated texture, melt an equal ratio of shea butter and coconut oil again and add it to the mixture. This will make it thicker.
A CBD body butter cream that is not CBD concentrated will not do you any good. So to increase its effectiveness, you can just add more CBD oil and whip for a longer duration.
Benefits Of Cannabidiol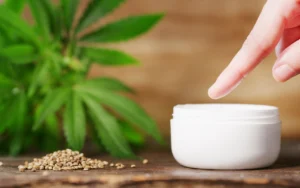 With amazing skin healing and remedial properties that are good for skincare, cannabidiol can certainly make a positive impact on your skincare life. So here are some of its best uses:
Pollutants, ultraviolet rays, and other environmental toxins that are increasingly widespread in daily life can produce free radicals.
Too much free radical radiation does not make for healthy skin. CBD's antioxidant properties could make it an excellent resource for preserving skin as it develops.
CBD has proven to heal swelling and puffiness in the skin in experiments conducted till now. CBD can be used to treat allergic skin problems, as well as to relieve pain and soothe the immune system.
CBD moisturisers and skincare products, if applied directly, may very well help you relieve discomfort in a specific area. Topical CBD, contrary to CBD oil that is ingested, does not travel through the bloodstream.
Many people who suffer from inflammatory diseases discover that cannabidiol active ingredients help to relieve pain and stiffness in their joints.